Japanese Tray - Serving Tray with Lacquered Finish
Lacquer Trays range from food trays, tea trays, black trays, small trays, large serving trays, etc.
We carry Serving Trays in a wide variety of styles, colors and sizes. Hopefully, among the selection you will find the idea serving tray for your need. Some of these trays are not only useful for food serving, but excellent for use as display trays, especially black trays. The smooth and glossy lacquer finish often enhances the quality of the item been presented.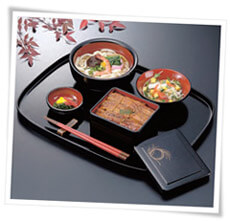 Japanese Trays with Decoration Ideas
Japanese Trays - Square Trays
---
Japanese Trays - Round Tea Trays

JPN-1-81-2-BK
$24.00

JPN-NAL5678
$58.00 Sold Out

JPN-B-8-62
$17.00
---
Non-Skid Trays

JPN-B-6-60
$23.00 Sold Out

JPN-B-6-61
$27.00

JPN-B-6-62
$34.00
---
Rectangular Trays
---
Large Serving Trays
---
Wood Trays