French Souvenirs - Paris Street Signs of Durable Enamel Replicas
Porcelain Enamel Signs Are Metal Signs Popular for Their Durability & Beautiful Colors.
What better way to daydream of the world's most romantic city than to create your own little Paris in your home? These enamel signs are very high quality and will add a Parisian accent to your home for years to come. Whether you are a seasoned traveler, or you dream of making your way to the City of Lights in the future, these signs will allow you to keep your dreams of Paris alive forever.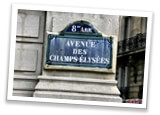 Vintage French Street Sign
French Street Signs (Small Replicas) - 4-1/4"W x 3-1/3"H
---
French Street Signs (Large Replicas) - 6"W x 4"H
---
French Street Signs (Large Vintage Style) - 6"W x 6"H

FR-1702-024
$37.00 Sold Out

FR-1702-020
$37.00 Sold Out

FR-1702-028
$37.00
---
French Street Signs (Enamel Keychain) - 2-3/8"W x 1-3/8"H
---
French Street Signs (Enamel Magnet) - 2-3/8"W x 1-3/8"H