Shipping and Handling Fee
Thank you very much for shopping with us. All our products are selected for excellent quality. Best effort will be made to ship merchandise to our customers on the most timely basis from the warehouse.
Shipping and Handling Fee
Below shipping charges apply to continental USA-(48 States).
Additional shipping charges may apply to outside continental USA. (Alaska, Hawaii, Canada, Guam, Puerto Rico, U.S. Virgin Islands, FPO, APO, P.O. Boxes, and all other International orders.)
Please contact us for quotations of express shipping methods.
Most items are shipped within two business days via UPS ground. We will contact you for special cases.
| Merchandise Total (before Tax) | **Standard Delivery |
| --- | --- |
| Up to $9.99 | $5.50 |
| $10.00 - $19.99 | $6.50 |
| $20.00 - $29.99 | $7.50 |
| $30.00 - $39.99 | $8.50 |
| $40.00 - $59.99 | $10.00 |
| $60.00 - $79.99 | $11.50 |
| $80.00 - $99.99 | $13.00 |
| $100.00 - $119.99 | $14.50 |
| $120.00 - $139.99 | $16.00 |
| $140.00 - $159.99 | $17.50 |
| $160.00 - $179.99 | $19.00 |
| $180.00 - $199.99 | $20.50 |
| $200.00 - $219.99 | $22.00 |
| $220.00 - $239.99 | $23.50 |
| $240.00 - $259.99 | $25.00 |
| $260.00 - $279.99 | $26.50 |
| Over $280.00 | $28.00 |
Return/Exchange Policy
We guarantee all items for a period of 30 days after the shipping date, with just a few minor exceptions noted below.
You must call or email us to obtain pre-authorization before returning/exchange any items. Please call customer care at 1-909-718-9999, Monday to Friday from 9:00am to 6:00pm PST.
All product returns must have prior, authorized approval from our customer service department. If you are dissatisfied with any product, you must phone 909-718-9999 (Monday to Friday from 9:00am to 6:00pm PST) within 30 days of shipping date to get a return pre-approval and a Return Authorization Number. If you do not follow any part of this return policy, we reserve the right to decline your return. If an order is returned without authorization and/or past the eligible return date, you will be charged a re-stocking fee.
Returns and exchanges for any special orders and large bulk orders will be subject to a re-stocking fee.
Returns or exchanges will NOT be accepted for any and all custom orders.
For all returns, you must return the item to our warehouse. If you choose to return an item, you will be required to cover all costs to return it to our warehouse. If you would like to return your item for a refund, you will only receive credit for the item(s) returned. The original shipping and handling fee will not be refunded.
Certain items have specific return policies which are labeled clearly in the item description. Please take note of these special circumstances before making your purchase.
Claim for Lost Package
HappyMall/English-Teapots cannot be held liable for orders that go missing while in transit. Once an order leaves our warehouse, we can no longer be held accountable for it. If the tracking number provided to you shows that your order has been delivered, but you did not receive the package, you will need to handle the matter with the courier responsible for delivering it. We will not provide free re-deliveries on orders that go missing.
Combine Orders with Engish-Teapots.com and Save Shipping
HappyMall.com and English-Teapots.com are owned and operated by the same company. To save shipping, simply place two separate orders on each website. On the 2nd order, type in the 1st order's confirmation number at the "Additional Information" box located at the last step of the check out process.
We only charge to your credit card when the package is ready to be dispatched. At that time, we will discount the 2nd order's shipping fee as the two orders is one single order. Then, the correct copy of the 2nd order will be emailed to you.
Conditions required for combined shipping:
Both orders need to have the same shipping address.
The 2nd order needs to be placed before the 1st order is shipped.
UPS Shipping Time
The below map illustrates the approximate UPS ground Shipping Time. It shows the number of business days needed for a package to reach its destination once it is shipped. It is your responsibility to make sure that you allow a sufficient amount of time for your order to be delivered. Entering a specific date in the "Needed By" box on the order form does not guarantee that your order will arrive on that date. If your order requires expedited shipping, please contact us for more information. Most orders ship out of our warehouse within two business days of being placed.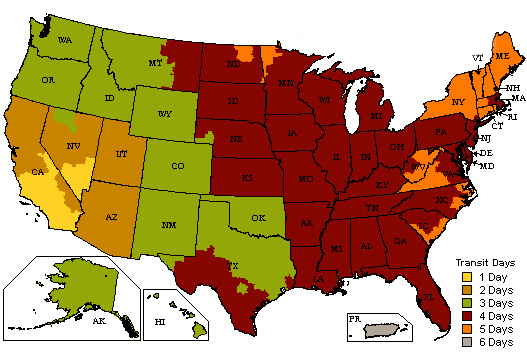 More questions?
For all other questions or concerns not addressed, please contact us via email or by calling (909)718-9999.