The Rheinland 'Cologne-Koblenz-Ruedesheim' Commemorative Beer Stein, 9-1/2"H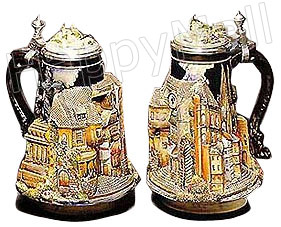 ITEM-NO: STN-6266
$250.00
9 1/2" Height
Stoneware, three-dimensional, entirely hand painted design.
Made in Germany
Most of our items will be shipped out from California, USA in one or two business days.
This is the sixth edition in the stein series entitled "Germany's Most Beautiful Citadels, Castles, and Buildings" The romantic Rheinland, from Cologne to Ruedesheim, has fascinated visitors for centuries with its old cities and enchanting landscape of castle ruins and vineyards along the winding Rhine River.

This stein pays tribute to this beautiful German region. Famous Rheinland landmarks are prominently displayed in 3-D design on the steinˇ¦s exterior surface. The Cologne Cathedral (the largest Gothic church in northern Europe), the Deutsche Eck (a 45-foot-tall copper-plated statue in Koblenz where the Rhine River and Mosel River meet) and the charming houses and inviting shops of Ruedesheim's Drosselgasse (Thrush Lane) are all represented on the steinˇ¦s body.

This stein is made of highest-grade stoneware and is entirely painted by hand. The polished pewter lid is adomed with a miniature figurine depicting the Rhine River Valley, the statue of Loreley (a mythical Rhine River siren), the Rheinstein Castle and the Pfalzburg Castle. Limited edition of 9,000 pieces. Each stein is individually numbered and includes a full-color certificate of authenticity.