Glass Beer Stein with Pewter Lid - Labrador, 7-1/4"H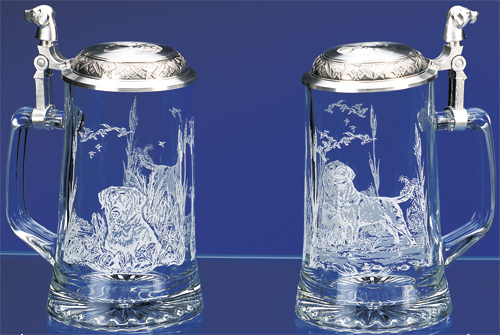 This glass stein is decorated with etched-style wrap-around art of Labrador by Linda Picken
Glass blank made in Italy; all other components made in Germany
Starburst, light-reflecting bottom of stein.
Size: 7-1/4" Height; Capcity: 18 oz
Aluminum hops and malt lid.
Lid: 95% Zinn
Net Weight: 2 pounds
Made in Germany
Most of our items will be shipped out from California, USA in one or two business days.
Glass Labrador Stein
Linda Picken drew this two panel motif. The left side features a close-up portrait of the dog with mallards flying overhead. The right side is a rendition of "Winter Music" in which an adult Lab stands in a snowfield while Canada geese fly above. The embossed pewter lid features a colse-up head study of the Labrador and the thumblift is a pewter Labrador dog head.