French Limoges Box, Paris Monuments on Map of France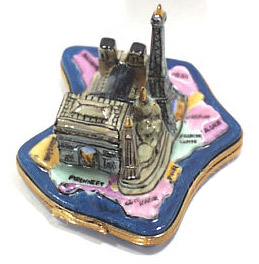 4 Monuments: Eiffel Tower, Arc de triumphe, Notre dame cathedrale, and Sacree Coeur Basilique
Inside reads: Paris
Hand-made piece and signed from Limoges, France
Base: 4" x 3 3/4"; Height: 3"
Hand painted in Limoges, France.
Signed or initialled by the artist.
Most of our items will be shipped out from California, USA in one or two business days.
You may also like:

FR-1602-113
$17.00

FRN-F38
$145.00

FRN-F23
$160.00

FR-1402-112
$9.00