Delft Blue Milkmaid, Trinket Box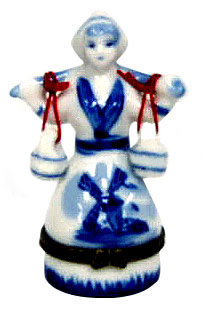 Zoom
ITEM-NO: HL9-J4030
$11.50
Sold Out
The delft blue trinket box featuring the milkmaid figurine is a small decorative box that is hand-painted with traditional blue and white colors.
The box is adorned with a depiction of the milkmaid from the folktale, which is a popular subject in Dutch art and culture. The milkmaid, whose real name is "Johanna," is a symbol of hard work and perseverance. It is a beautiful and unique piece of Dutch art that is sure to be a treasured addition to any collection.
Hand-painted porcelain box with hinge, perfect for storing small items such as jewelry, coins, or trinkets.
Height: 3.75"
Most of our items will be shipped out from California, USA in one or two business days.
---
You may also like.