Glass Beer Stein with Pewter Lid - Bald Eagle, 7-1/4"H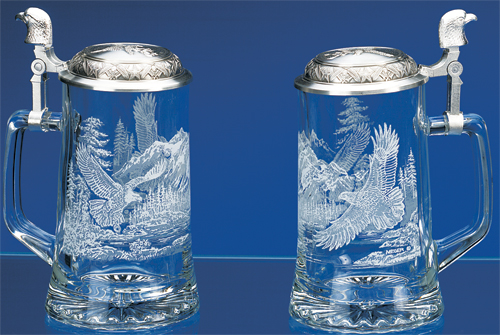 Bald Eagle print by wildlife artist James Meger
7-1/4" Height; Capcity: 18 oz
Glass blank made in Italy; all other components made in Germany
Lid: 95% Zinn
Decorated with etched-style wrap-around print
Aluminum hops and malt lid.
Starburst, light-reflecting bottom of stein.
Net Weight: 2 pounds
Made in Germany
Most of our items will be shipped out from California, USA in one or two business days.
Glass Bald Eagle Stein
The wrap-around format of this stein was created by James A. Meger. It depicts a mountain scene with two eagles in flight. The design is a high fired etched style wrap-around print. The pewter lid depicts an embossed pewter eagle and the stein is completed with a pewter eagle head thumblift.