Mask of King Tutankhamun Wall Plaque, 6"H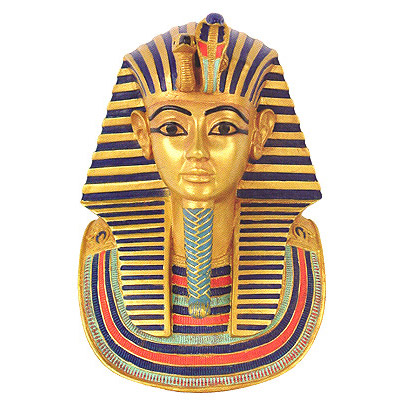 Egyptian themed wall hanging plaque, a museum reproduction of the funerary mask of King Tut
Size: 6"H (14cm); Weight: 1.1 lbs.
Material: boned stone
Size: 6"x4"x3"
The original piecie of the Mask, 1347 B.C. is currently placed at Egyptian Museum, Cairo,
Mask of King Tutankhamun was found on the king's mummified body. The gold mask was the most famous treasure to emerge from his tomb. The cobra and vulture on the headdress are symbols of his dominance over upper and lower Egypt. The false beard of divinity, attached to the chin, is that of Osiris, ruler of the netherworld. Engravings on back comprise a spell from the Book of the Dead. The original mask was of gold inlaid with various precious stones and glass.
Most of our items will be shipped out from California, USA in one or two business days.