Smiling Face, Kokeshi Doll, 4.4"H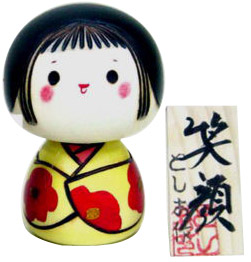 ITEM-NO: JPN-GKD-W2005-7
$23.00
A creative sunny Kokeshi doll, a little girl with a big smiley face with short hair, wearing red flowers patterned yellow yukata kimono
Doll name: Smiling Face (Egao)
Height: 4.4" Weight: 250g
Material: Mizuki wood
This Kokeshi doll is hand-made in Japan.
Signed and stamped by Japanese Artist..
Comes with the wood plaque as shown, and a paper box.
Most of our items will be shipped out from California, USA in one or two business days.