Capodimonte Lamps
Capodimonte is one of the most famous Italian porcelain art.
King Charles VII established The Royal Factory (no longer in production) in making these beautiful arts located in Naples, Italy in 1743. Since then, the name Capodimonte has associated with the finest Neapolitan porcelain and ceramics. Most of the Capodimonte pieces are handicraft figurines or decorative flower arrangements, and functional electric lamps are added later and yet remain popular.
Here we are showing some photos of Capodimonte lamps. If you are fortunate to own one of these beautiful art pieces, you will notice that the luxurious beauty of the Capodimonte will lasts for years to come and thus they are highly collectible items.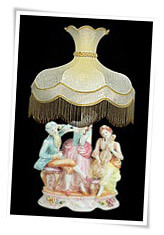 Capodimonte lamp and shade with trio musicians figurine